Summer Plans.
I like to think I'm an avid planner. I need to have a plan. This even extends to hanging out with Mario and my friends. I have to have at least some idea of what we plan to do, even if it's just hanging out at each other's houses. I'm definitely not the type of person you can call up when you want to do something random at any hour or the type to come over and figure it out as we go. I get incredibly stressed out, not only in terms of figuring stuff out last minute but more importantly, how do you even dress for undecided plans.
I had been begging Mario for a summer picnic but in between our busy school and work schedules, it was looking close to sitting on the beach freezing our asses off in December. So, it wasn't cold, but I advise everyone to check when the hell high tide is because that's pretty much where my planning went to shit.
Either way, we made it work and I went HAM in the kitchen. Since we ventured out mid-August, it was still pretty warm. I opted for stuff that was easily wrapped and packed but equally delicious.
Tomato, Basil & Mozzarella Skewers
These were super easy to make! I opted for some super pretty heirloom tomatoes and Fresh Ciliegine Mozzarella by Belgioioso. I soaked the skewers for a couple minutes in water and alternated the basil, mozzarella and tomatoes. Then I seasoned them with a little bit of salt and pepper and a drizzle of olive oil.
Turkey, Brie & Cranberry Sandwiches
These were super easy and delicious! I started out with a large baguette and sliced it in four separate pieces. I filled each sandwich with a humble slice of brie, a couple slices of turkey, some dried Oceanspray cranberries, and a little bit of spinach. These sammies were perfect and received the Mario-Stamp of Approval.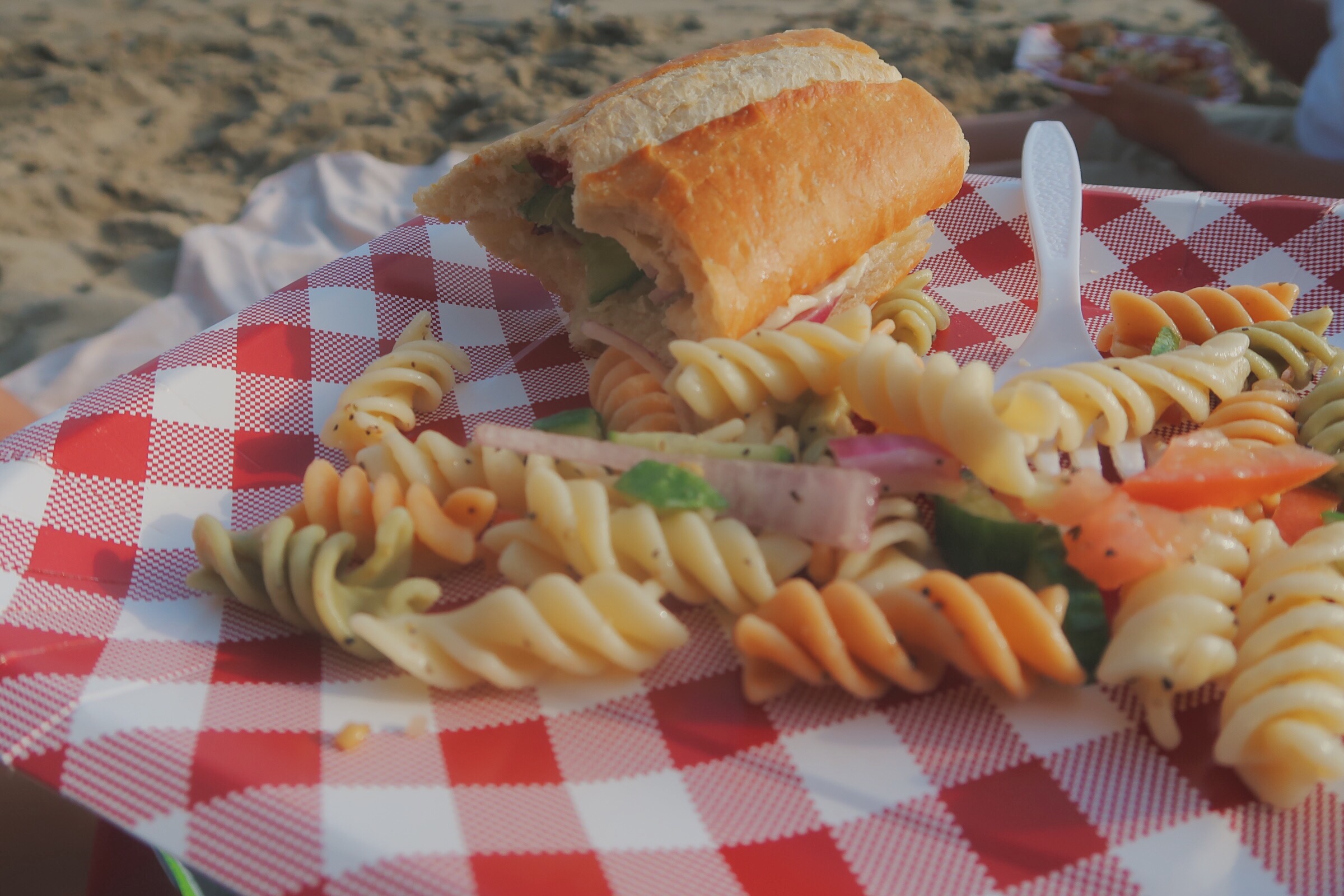 Pasta Salad
My mom makes this pasta salad all the time and this time I decided to try it out. I cooked some colored pasta noodles and let them cool. I chopped up some red onion, cucumber, tomatoes and olives. Once the pasta cooled, I mixed everything together and tossed it with some Italian dressing and seasoned with salt and pepper to taste. Super simple and super yummy.
Berries & Grapes
I washed them lol.
I brought pillows and a matt for our picnic – extra, I know. Even though it was still a little warm out, I opted for a cute strapless jumpsuit and a hat. This proved to be a solid choice when it started to get colder and we had to haul ass back to Mario's car to pack everything up at the end of our picnic. The beach is the essence of summer fun, but next time we plan to use Mario's patio furniture for a backdrop.